It's an age old dilemma. It's too cold outside to exercise, so how do we stay active in winter? Also, we just want to hibernate, binge Netflix and eat Tim Tams. But what if I said you could stay warm while you exercise, maybe even whilst you binge?
Take An Indoor Exercise Class
It's easy to cut back on those outdoor boot camps during winter, so perhaps now is the time to try an indoor exercise class. Our core yoga and chair yoga classes are run in the warmth of our Gold Creek studio in Canberra and we love seeing new faces. The body also benefits from trying new physical challenges, so whatever your usual routine, throwing in some yoga is a great way to mix it up and grow in a different direction.
Watch TV (and Get Fit)
Yes, you read right. Stay active this winter while you watch TV. While you binge your favourite series, try holding these poses for a minute at a time. No thought. No leaving the house. No cold. No fancy exercise equipment. Just good for you strengthening exercises, while you watch TV in the comfort of your own home.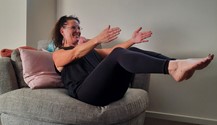 Boat Pose
Remind your core that it has a job to do.
Remember – legs parallel to the floor, arms just above the knees and let the core do the work – not the back


Squat
Let's activate those leg muscles, keep them strong and ready for whatever tomorrow throws at us.
Remember – knees pointing towards middle toes, but not past them!


Plank
Whole body action here, but mid range for those who don't plank a lot! 
Remember – you can do this on the floor, but against your stable furniture like this will help if you are new to planks. Aim for a straight line from head to heel.

Get Outside For A Run At Lunch
And if a minute seems like an impossible aim, start smaller and build up to it. You'll be amazed at your progress after just a week of these small daily steps (at the beginning of each new episode)!
If indoor options really aren't for you, perhaps you are used to being up at the crack of dawn to get in your run? But now it's freezing at 6am, and your sessions are dwindling. How about thinking outside the box, can you mix up your times a little? How about a lunch time run? Canberra has the most fabulous sunny lunch times (mostly!).
However you choose to exercise this winter, be kind to yourself, find something you enjoy and listen to your body!
Brightest blessings xx